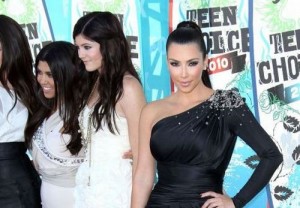 Ovogodišnja dodela Teen Choice Awards 2010 prošla je u znaku vampira, mladih nadolazećih zvezda, ali i onih "starijih" koje se još uvek žilavo drže u showbiz svetu. Iako se detalji svečanosti održane u Gibson Amphitheatreu u kalifornijskom Universal Cityju drže u strogoj tajnosti, nekoliko je informacija procurelo pre prikazivanja na televiziji. Tako je poznato da je ceremoniju dodele vodila pevačica Katy Perry, a najviše nagrada, ukupno 12, dobila je saga "Sumrak". Dominacija vampirskih franšiza potvrđena je dodelom 7 nagrada seriji "Vampire Diaries" pa su neki predložili da se svečanost preimenuje u "Vampire Choice Awards". Nagrade za najzgodnije teen idole kući su odneli Megan Fox i Taylor Lautner.
Sestre Kardashian dobile nagradu za najbolji reality
Najboljim realityjem proglašen je "Keeping Up With the Kardashians", a nagradu su preuzele sestre Kim, Kourtney i Khloe koje su na crvenom tepihu plenile pažnju kratkim haljinicama. Zanimljivo je bilo i pojavljivanje Levija Johnstona na crvenom tepihu, koji je poznatiji kao bivši verenik Bristol Palin. Tinejdžer s Aljaske postao je poznat nakon što je kćerka Sarah Palin sa 17 godina zatrudnela s njim te ju je on zaprosio i kasnije prekinuo veridbu. Ponovno ju je odlučio oženiti u julu 2010. da bi se nakon nepunih mesec dana predomislio.
[youtube sV-0aF4PNgw]
Na dodeli Teen Choice nagrada pojavio se u društvu malo poznate pevačice Brittani Senser kojoj glumi dečka u spotu. Njegova bivša verenica besna je zbog spota, jer smatra da ismeva njenu porodicu. U njemu Levi i Brittani glume par koji razdvoji njena majka. Bristol tvrdi da ju je Levi iskoristio kako bi postao slavan te da joj je lagao kad je išao na snimanje spota, govoreći kako putuje u Hollywood da gleda lovački show. Levi je najavio da počinje raditi na svojoj filmskoj karijeri.
[youtube 31oU8-plmy0]
Spisak svih nagrada!!!
TEEN CHOICE AWARDS 2010 WINNERS FULL LIST
MOVIES
Choice Movie: Action Adventure: Sherlock Holmes
Choice Movie Actor: Action Adventure: Channing Tatum, G.I. Joe: The Rise of Cobra
Choice Movie Actress: Action Adventure: Rachel McAdams, Sherlock Holmes
Choice Movie: Sci-Fi: Avatar
Choice Movie: Liplock: Robert Pattinson and Kristen Stewart, The Twilight Saga: New Moon
Choice Movie: Fight: Mia Wasikowska vs. The Jabberwocky, Alice in Wonderland
Choice Movie: Hissy Fit: Miley Cyrus, The Last Song
Choice Movie: Chemistry: Kristen Stewart and Robert Pattinson, The Twilight Saga: New Moon
Choice Movie: Male Breakout: Liam Hemsworth, The Last Song
Choice Movie: Female Breakout: Taylor Swift, Valentine's Day
Choice Movie: Male Scene Stealer: Kellan Lutz, The Twilight Saga: New Moon
Choice Movie: Female Scene Stealer: Ashley Greene, The Twilight Saga: New Moon
Choice Movie Actor: Sci-Fi: Sam Worthington, Avatar
Choice Movie Actress: Sci-Fi: Zoë Saldana, Avatar
Choice Movie: Fantasy: The Twilight Saga: New Moon
Choice Movie Actor: Fantasy/Sci-Fi: Taylor Lautner, The Twilight Saga: New Moon
Choice Movie Actress: Fantasy/Sci-Fi: Kristen Stewart, The Twilight Saga: New Moon
Choice Movie: Drama: The Blind Side
Choice Movie Actor: Drama: Robert Pattinson, Remember Me
Choice Movie Actress: Drama: Sandra Bullock, The Blind Side
Choice Movie: Romantic Comedy: Valentine's Day
Choice Movie Actor: Romantic Comedy: Ashton Kutcher, Valentine's Day
Choice Movie Actress: Romantic Comedy: Sandra Bullock, The Proposal
Choice Movie: Comedy: Date Night
Choice Movie Actor: Comedy: Ashton Kutcher, Killers
Choice Movie Actress: Comedy: Tina Fey, Date Night
Choice Movie: Horror/Thriller: Paranormal Activity
Choice Movie Actor: Horror/Thriller: Leonardo DiCaprio, Shutter Island
Choice Movie Actress: Horror/Thriller: Megan Fox, Jennifer's Body
Choice Movie: Animated: Toy Story 3
Choice Movie: Villain: Rachelle Lefevre, The Twilight Saga: New Moon
Choice Movie: Dance: Sandra Bullock and Betty White, The Proposal
Choice Summer Movie:The Twilight Saga: Eclipse
Choice Summer Movie Star: Male: Robert Pattinson, The Twilight Saga: Eclipse
Choice Summer Movie Star: Female: Kristen Stewart, The Twilight Saga: Eclipse
TELEVISION
Choice TV Show: Drama: Gossip Girl
Choice TV Actor: Drama: Chace Crawford, Gossip Girl
Choice TV Actress: Drama: Leighton Meester, Gossip Girl
Choice TV Show: Fantasy/Sci-Fi: The Vampire Diaries
Choice TV Actor: Fantasy/Sci-Fi: Paul Wesley, The Vampire Diaries
Choice TV Actress: Fantasy/Sci-Fi: Nina Dobrev, The Vampire Diaries
Choice TV Show: Action: NCIS: Los Angeles
Choice TV Actor: Action: Zachary Levi, Chuck
Choice TV Actress: Action: Yvonne Strahovski, Chuck
Choice TV Show: Comedy: Glee
Choice TV Actor: Comedy: Jonas Brothers, JONAS
Choice TV Actress: Comedy: Selena Gomez, Wizards of Waverly Place
Choice TV: Animated Show: Family Guy
Choice TV: Reality Show: Keeping Up with the Kardashians
Choice TV: Reality Competition Show: American Idol
Choice TV: Male Reality/Variety Star: Lee DeWyze, American Idol
Choice TV: Female Reality/Variety Star: The Kardashians, Keeping Up with the Kardashians
Choice TV: Villain: Ian Somerhalder, The Vampire Diaries
Choice TV: Personality: Ryan Seacrest
Choice TV: Breakout Show: The Vampire Diaries
Choice TV: Female Scene Stealer: Hilary Duff, Gossip Girl
Choice TV: Male Scene Stealer: Chris Colfer, Glee
Choice TV: Female Breakout Star: Nina Dobrev, The Vampire Diaries
Choice TV: Male Breakout Star: Paul Wesley, The Vampire Diaries
Choice TV: Parental Unit: Mike O'Malley, Glee
Choice Summer TV Show: Pretty Little Liars
Choice Summer TV Star: Male: Ian Harding, Pretty Little Liars
Choice Summer TV Star: Female: Lucy Hale, Pretty Little Liars
MUSIC
Choice Music: Male Artist: Justin Bieber
Choice Music: Female Artist: Lady Gaga
Choice Music: Group: Selena Gomez & The Scene
Choice Music: Rap Artist: Eminem
Choice Music: R&B Artist: Beyoncé
Choice Music: Rock Group: Paramore
Choice Music: Male Country Artist: Keith Urban
Choice Music: Female Country Artist: Taylor Swift
Choice Music: Country Group: Lady Antebellum
Choice Music: Single: California Gurls, Katy Perry
Choice Music: Hook Up: Airplanes, B.o.B featuring Hayley Williams
Choice Music: Breakout Artist – Male: Justin Bieber
Choice Music: Breakout Artist – Female: Selena Gomez and The Scene
Choice Music: Love Song: When I Look At You, Miley Cyrus
Choice Music: R&B Track: OMG, Usher
Choice Music: Rap/Hip-Hop Track: Love The Way You Lie, Eminem featuring Rihanna
Choice Music: Rock Track: Ignorance, Paramore
Choice Music: Country Song: Fifteen, Taylor Swift
Choice Music: Album – Pop: My World 2.0, Justin Bieber
Choice Music: Album – Rock: Brand New Eyes, Paramore
Choice Music: Album – R&B: Jason Derülo, Jason Derülo
Choice Music: Album – Rap: Relapse, Eminem
Choice Music: Album – Country: Fearless, Taylor Swift
Choice Summer Music Star: Male: Justin Bieber
Choice Summer Music Star: Female: Lady Gaga
Choice Summer Music: Song: California Gurls, Katy Perry featuring Snoop Dogg
SPORTS
Choice Athlete: Male: David Beckham (Soccer)
Choice Athlete: Female: Serena Williams (Tennis)
Choice Action Sports Athlete: Male: Ryan Sheckler (Skateboarding)
Choice Action Sports Athlete: Female: Maya Gabeira (Surfing)
FASHION AND BEAUTY
Choice Male Hottie: Taylor Lautner
Choice Female Hottie: Megan Fox
Choice Red Carpet Fashion Icon- Female: Selena Gomez
Choice Red Carpet Fashion Icon-Male: Taylor Lautner
Choice: Celebrity Fashion Line: Miley and Max Miley Cyrus and Max Azria
OTHER
Choice Comedian: Ellen DeGeneres
Choice Twit: Ellen DeGeneres
Choice Web Star: Shane Dawson
Choice Videogame: The Sims 3
Choice Smile presented by Invisalign Teen: Taylor Lautner
Choice Activist: Shakira
Choice American Idol Alum: David Archuleta
Most Fanatic Fans: Twilight Cast