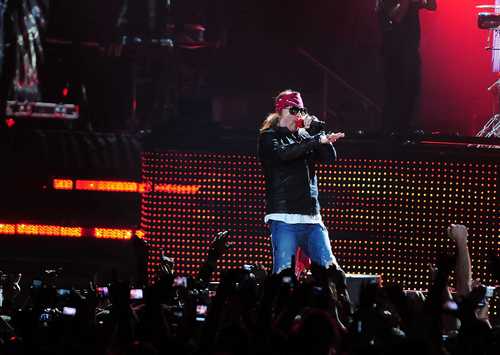 Nakon fenomenalnog nastupa u režiji "Duran Duran" u četvrtak, Axl i društvo imaće veliki zadatak da ih nadmaše. Ipak, ono što spremaju za današnji nastup je spektakularno!
Gunsi planiraju zaista impresivan nastup koji se praktično sastoji od 30-tak pesama koje pokrivaju celokupnu karijeru benda i sve najveće hitove! Među numerama koje ćemo sigurno čuti biće "Welcome to the Jungle", "Estranged", "You Could Be Mine", "Sweet Child O'Mine", Paradise City i epski "November Rain". Pravi fanovi grupe uživaće i u pesmama sa najnovijeg albuma benda "Chinese Democracy", a mi posebnu pažnju skrećemo upravo na naslovnu numeru koja i otvara koncert, zatim "Better" kao i prelepu baladu Street of Dreams.
Evo i kompletne liste pesama koje nam bend sprema:
Chinese Democracy
Welcome to the Jungle
It's So Easy
Mr. Brownstone
Sorry
Rocket Queen
Estranged
Better
Richard Fortus Guitar Solo
Live and Let Die
(Paul McCartney & Wings cover)
This I Love
Used to Love Her
Motivation
Dizzy Reed Piano Solo
(Baba O' Riley)
Street of Dreams
You Could Be Mine
DJ Ashba Guitar Solo
(Ballad of Death)
Sweet Child O' Mine
Another Brick in the Wall Part 2
(Pink Floyd cover) (with Axl on piano)
Axl Rose Piano Solo
(Goodbye Yellow Brick Road/… more)
November Rain
Glad to Be Here
(Bumblefoot cover) (Bumblefoot on lead vocals)
Don't Cry
Civil War
Knockin' on Heaven's Door
(Bob Dylan cover)
Jam
Nightrain
Jam
Patience
Jam
Paradise City
Koje pesme vi najviše isčekujete?