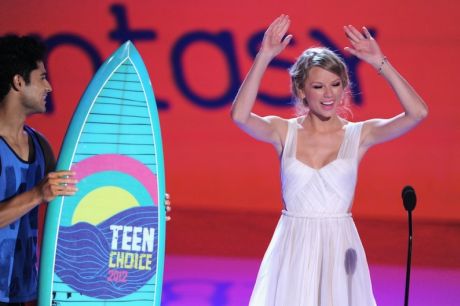 U Gibson teatru u Los Anđelesu večeras će biti veoma uzbudljivo, pošto je to mesto gde će biti održana dodela Teen Choice nagrada.
Očekuje se da će se na crvenom tepihu pojaviti veliki broj vaših omiljenih zvezda, uključujući Selenu Gomez, Ashtona Kutchera, Candice Glover, Iana Somerhaldera, Demi Lovato, Bridgit Mendler, Bellu Thorne, momke iz grupe The Wanted, Lilly Collins, Liama Hemswortha, Chloe Grace Moretz, Sandru Bullock, Kerry Washington, Miley Cyrus, Jima Parsonsa i mnogih drugih, a prava poslastica biće nastup One Directiona, koji će po prvi put uživo izvesti svoj novi hit "Best Song Ever", i time svečano označiti početak ceremonije. Pored njih, na sceni će nastupiti i Demi Lovato, Paramore i mnoge druge. Domaćini programa biće Lucy Hale i Darren Criss.
Mediji pišu da će se večeras pojaviti i Lea Michelle, što bi bilo njeno prvo zvanično pojavljivanje u javnosti od smrti dečka, Coryja Monteitha, te da će čitava ceremonija biti posvećena ovom tragično preminulom glumcu.
Izvor: Life Content