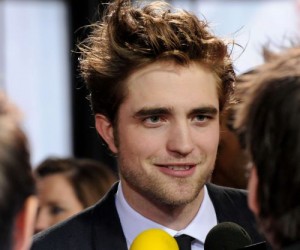 Robert Pattinson je ubeđen je uspeh "Twilighta" sve iznenadio, pošto su njemu dozvolili da učestvuje na soundtracku za film.
Britanac je za film snimio pesme "Never Think" i "Let Me Sign" i priznaje da je i dalje veoma uzbuđen što je dobio šansu da pokaže svoj muzički talenat.

"Bilo je jako lepo učestvovati u prvom soundtracku. Gledao sam prvi film na TV-u pre nekoliko dana i bilo je jako bizarno kad sam čuo svoju pesmu. Ali, to ipak samo pokazuje da niko nije slutio da će film postići toliki uspeh."
And Pattinson admits that catching his tunes in "Twilight" on TV has given him the hunger to record more songs for the film franchise.
He adds, "Maybe I will do more songs (for the soundtrack)."