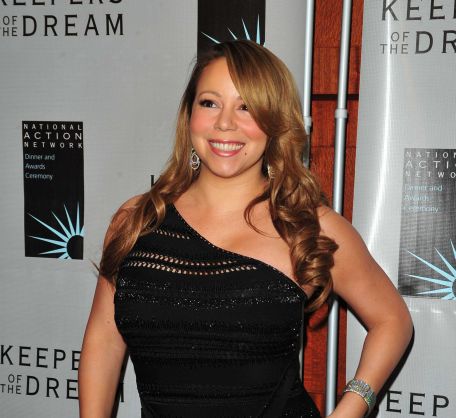 Pojavivši se prošlog petka na koncertu u jednom gradiću u američkoj državi Arkansas s kojom kilom više, Mariah Carey indirektno je potvrdila glasine da je trudna te da se zbog majčinstva povukla iz filma "For Colored Girls Who Have Considered Suicide When the Rainbow Is Enuf".
Utisak da se Mariah zaoblila zbog trudnoće pojačala je izjava njenog supruga Nicka Cannona: "Stomačić joj je veći. Sad se već skoro može i videti. Jako sam uzbuđen!" kaže Nick, s kojim je pevačica i glumica u braku dve godine.
Trudnoću je časopisu US potvrdio i bliski prijatelj para, ali s obzirom da Mariah Carey ne želi zvanično da objavi trudnoću dok ne prođe prvo tromesečje, tako je njezin suprug dan posle ublažio svoju euforičnu izjavu.
"Siguran sam da će moja supruga bilo kakve objave prvo podeliti sa porodicom i prijateljima, a ne prvo s medijima," rekao je sledećeg jutra u radio emisiji koju vodi, a na svom profilu na Twitteru napisao je kako će sva obaveštenja o svojim privatnim stvarima njegova supruga učiniti lično – ako i kada bude spremna.