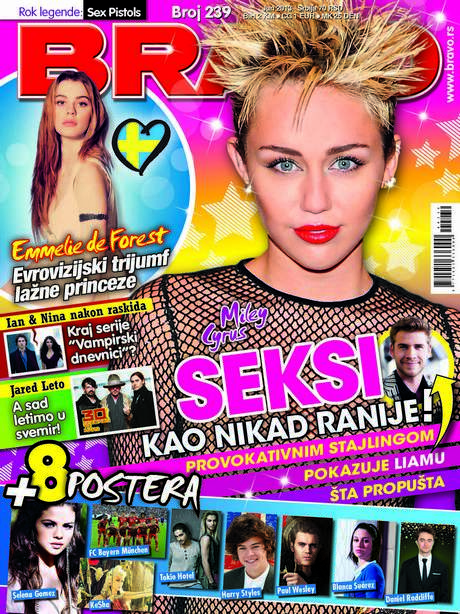 Novi BRAVO od 31. maja na svim kioscima!!!
Cover Story
Miley Cyrus: Seksi kao nikad ranije!
Stars
Ian Somerhalder & Nina Dobrev, will.i.am, Bruno Mars, Emmelie de Forest, Ashley Tisdale, Jared Leto (30 Seconds To Mars), Blanca Suárez ("Internat"), Dwayne Johnson…
8 postera
Selena Gomez, Harry Styles (1D), FC Bayern München, Tokio Hotel, Paul Wesley, Daniel Radcliffe, Ke$ha, Blanca Suárez
News
Justin Bieber, Jessie J, The Wanted, Jennifer Lawrence, Selena Gomez, "How I Met Your Mother", Harry Styles, Vanessa Hudgens, "Mamurluk 3", Mika, Highway…
Rok legende
Sex Pistols: Rodonačelnici pank-roka

Test x 2
Raskinuli ste – i šta sad?
Ko bi bio glavni junak u filmu o tvom životu?
Horoskop
Rođendanac meseca: Mario Casas
Foto Love Story
Pogrešan potez
Report
Deca Mozambika: Biljke koje spašavaju živote
Style
Trendi garderoba u bojama leta
Stalne rubrike
Let's Talk, Movie, Action, Books, Forum, Charts, Songbook, Fun…
Win!
Osvoj najnovija CD izdanja, književne bestselere i suvenire iz aktuelnih filmskih hitova
BRAVO – tvoj čitav svet!