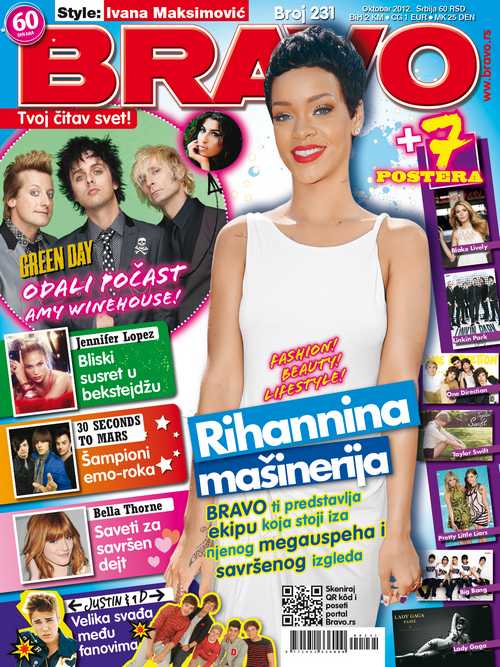 Novi Bravo od 29. septembra na svim kioscima!!!
U njemu te očekuju: Jennifer Lopez, Lady Gaga, Nicki Minaj, Bella Thorne, Justin Bieber, One Direction, "Tračara", Green Day, Ryan Guzman ("Uhvati ritam 4"), Ivana Maksimović, Nina Dobrev, David Guetta, Selena Gomez, Vanessa Hudgens, Britney Spears, Demi Lovato, Lena Meyer-Landrut, Emma Watson, Katy Perry, Psy i mnoge druge zvezde…
Posteri
Blake Lively, Linkin Park, One Direction, Taylor Swift, Lady Gaga, Ashley Benson & Lucy Hale ("Pretty Little Liars") i Big Bang
Cover Story
Rihannina mašinerija: BRAVO ti otkriva ko stoji iza njenog megauspeha i savršenog izgleda
BRAVO serijal
Bruno Mars Megastar – 3. deo
Rok legende
30 Seconds To Mars: Šampioni emo-roka
BRAVO Report
Billy Talent: Tajni koncert u Nemačkoj
Test
Na koji lik Johnnyja Deppa najviše podsećaš?
Movie
Selena Gomez: Nova omiljena vampirica
Foto Love Story
Spasilačka misija za ljubav
Style
Best of MTV Video Music Awards
Horoskop
Rođendanac meseca: Zac Efron
Charts
Psy, Carly Rae Jepsen, Mika, Nelly Furtado…
Stalne rubrike
Let's Talk, Fun, News, Action, Forum, Charts, Songbook…
Osvoj!
Najnovija CD izdanja, filmske suvenire…
BRAVO – tvoj čitav svet!