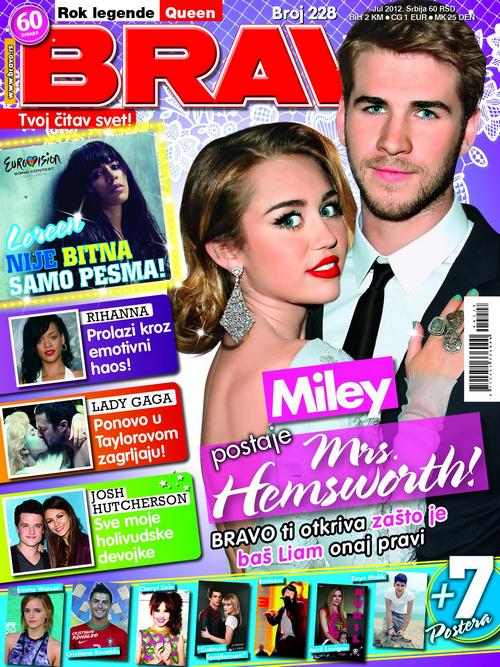 Novi Bravo od 30. juna na svim kioscima!!!
U njemu te očekuju: Lady Gaga, Rihanna, Linkin Park, Mario Casas, Josh Hutcherson, Loreen, Bella Thorne & Zendaya Coleman, Katy Perry, Nina Dobrev, Beyonce, Charlie Sheen, Jared Leto, "Twilight Saga – Breaking Dawn 2", One Direction, Rita Ora, Paris Jackson, Justin Bieber, Conor Maynard, Tom Felton, EXO-K i mnoge druge zvezde…
Cover Story
Veridba Miley Cyrus: BRAVO ti otkriva zašto je baš Liam onaj pravi
Posteri: Avril Lavigne, Cheryl Cole, Eminem, Zayn Malik (1D), Andrew Garfield & Emma Stone, Cristiano Ronaldo, Emma Watson
Movie roman
"Čudesni Spajdermen": Pauk je ponovo među nama!
BRAVO akcija
One Direction: Koga ste izglasali za svog 1D ljubimca?
BRAVO serijal
Rok legende, 5. deo: Queen – Kraljevi roka
Prvi put u Bravu!
Novi bendovi rokaju ovog leta: Hot Chelle Rae, Breathe Carolina, Of Monsters And Men, Caligola
Style
Kako da se obučeš za prvi dejt?
Horoskop
Rođendanac meseca: Selena Gomez
Foto Love Story
Don't Cry
Stalne rubrike
Let's Talk, Fun, Action, Test, Forum, Charts, Movie, Songbook…
Osvoj!
Najnoviji CD-ovi, suveniri iz filmova "LOL", i "Ledeno doba 4", slatki paketi…
BRAVO – tvoj čitav svet!