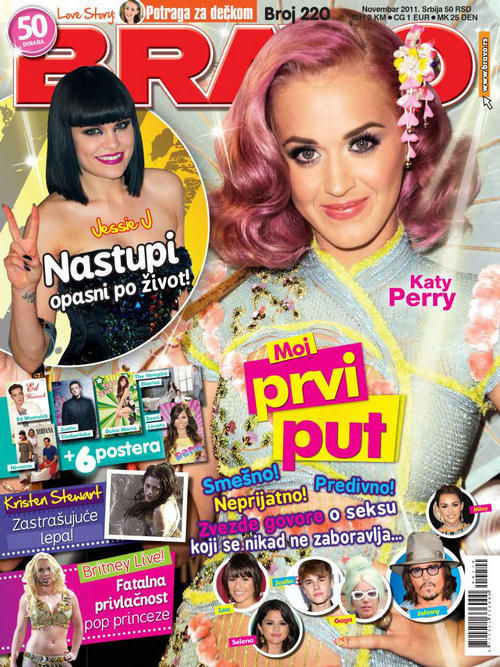 Novi Bravo od 31. oktobra na svim kioscima!!!
U njemu te očekuju: Katy Perry, Jessie J, Kristen Stewart, Britney Spears, "The Vampire Diaries", Ed Westwick, Dulce María, Rihanna, Ke$ha, Nirvana, Demi Lovato, "Harry Potter", Johnny Depp, Justin Timberlake, David & Cathy Guetta, Nikola Sarić Sajko, Natalia Kills, One Direction, Bruno Mars, Lady Gaga, 50 Cent, Ashley Tisdale, Ashton Kutcher, Michael Jackson, Joe Jonas & Nina Dobrev, Justin & Selena, Jedward, Lea Michele, Miley Cyrus, SuperHeavy, Jared Padalecki, Penn Badgley, Ashley Greene & Reeve Carney, Nick Jonas, Trevor Black Pony, Marilyn Manson, Nickelback, The Black Keys, The Subways i mnogi drugi…
Cover Story
"Moj prvi put": Zvezde govore o seksualnom iskustvu koje se nikad ne zaboravlja!
Ponovo u Bravu: Foto Love Story na 6 strana!
Bravo Style Model: Predstavljamo ti treću grupu kandidata!
Stalne rubrike: Let's Talk, Fun, Psychotest, Action, Horoskop, Forum, Charts…
Budi u toku uz BRAVO!!!