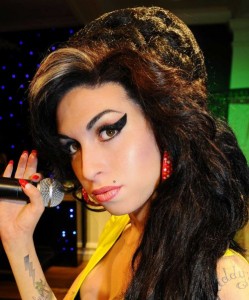 Amy Winehouse bacila je oko na svetla Hollywooda i hoće da postane i glumačka zvezda. Pevačica se nada da bi mogla uspeti i kao glumica, i to u maniru Marilyn Monroe, kojom je Amy potpuno opsednuta i šuška se da  namerava da ofarba kosu u plavo kako bi bila seksi kao Marilyn.
"Amy se već upisala na časove glume na Central School of Speach and Drama u severnom Londonu, koju je pohađala i Helen Mirren. Pevačica je rođena kraljica drame, najviše od svega voli da bude u centru pažnje. Svi oko nje slažu se da je gluma sjajna ideja i smatraju da bi vrlo lako od pevačice postala glumica", otkrio je jedan porodični prijatelj.
Dvadesetšestogodišnja zvezda, koja je u svežoj vezi s filmskim producentom Regom Travissom, već dugo govori kako bi volela da se  preseli u Los Anđeles i da se pojavi na glumačkoj sceni.