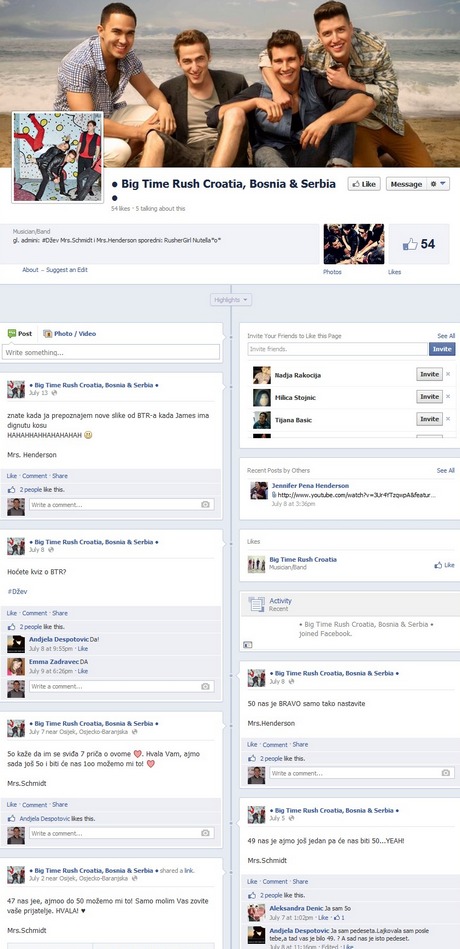 Ovo je prva stranica sa baš ovim imenom. Mi, admini, smo mislili da već postoji takva, a kada smo se uvjerili da nema, odlučili smo ju napraviti.
Facebook stranica: • Big Time Rush Croatia, Bosnia & Serbia •
Imamo malo fanova, ali stranica je osnovana tek 23. 6. 2013. Radimo na aktivnosti i pronalaženju najnovijih fotografija i najoriginalnijih objava. Stranicu vode tri gl. adminke koje su osnovale stranicu i imamo dvije sporedne. Dobro bi nam došao i jedan RusherBoy u adminima xD
FAN PAGES je rubrika u kojoj predstavljamo vaše fan stranice! Sve što treba da uradite jeste da nam pošaljete adresu svoje stranice/foruma/bloga/Twittera i ukratko ih opišete. Sve to napišite u e-mailu i pošaljite ga na našu adresu, bravoportal@gmail.com a u subject stavite Fan Pages. OBJAVLJUJEMO SAMO STRANICE KOJE SU AKTIVNE (nije važno koliko imate fanova) I TO REDOM KOJIM IH DOBIJEMO. Stranice koje smo već jednom predstavili možemo predstaviti opet, ali samo ako je prošlo godinu dana otkako su prvi put objavljene.