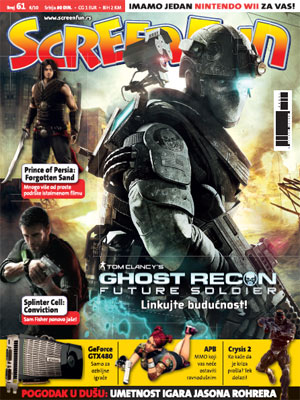 Sadržaj
Preview
4 Ghost Recon: Future Soldire
Kako će izgledati budućnost ratovanja?
10 Prince of Perisa: The Forgotten Sand
Prince nam se vraća u novom izdanju
12 Crysis 2
Ko kaže da je kriza prošla? Tek stiže!
14 Formula 1 2010
Nova sezona sa Šumaherom
16 APB
MMO koji vas neće ostaviti ravnodušnim
Special
18 Umetno igara Jasona Rohrera
Igre koje će vam dotaći dušu
22 Teorije zavere u video igrama
Ne verujte svemu što čujete
24 Ratovi i čekići 41. veka
Sve o serijalu Warhammer 40.000
Test
46 Age of Pirates 2
44 Dead to Right: Retribution
50 Global Agenda
42 GTA: Episodes from Liberty City PC
40 Lucidity
47 Majesty 2: Kingmaker
47 Prison Break: The Conspiracy
48 Settlers 7: Paths to a Kingdom
52 Simon the Sorcerer 5
36 Spinter Cell: Conviction
45 Star Wolves 3: Civil War
41 Zombie Driver
54 Mini-opisi: Metal Slug Complete, Castlevania: The Adventure Rebirth, Mortal Kombat II, Mega Man 10, Final Fight: Double Impact, Comix Zone
Software
56 Dual boot
Windows XP i sedmica na jednom računaru
Hardware
58 GeForce GTX480
Koliko je stvarno jaka
Fun
60 Megaposter
Treći deo Alise iz Tekkena 6
61 Svaštara
Šta igra MC Stojan?
62 Game Over
Sve za Blizance
Još u ScreenFunu
28 Vesti
Najavljen PES2011, Novi CoD i Assassin's Creed
30 A sada malo vi
Ko je osvojio World of Warcraft?
53 Nintendo Wii na poklon
Konzola za nastupajuću letnju sezonu
Nova rubrika: Mini-opisi
str.
54
Dva poklon-postera
Prince of Persia: The Forgotten Sand
Splinter Cell: Conviction
Settlers 7
Najslađa igra u proteklom mesecu
str. 48
Saša