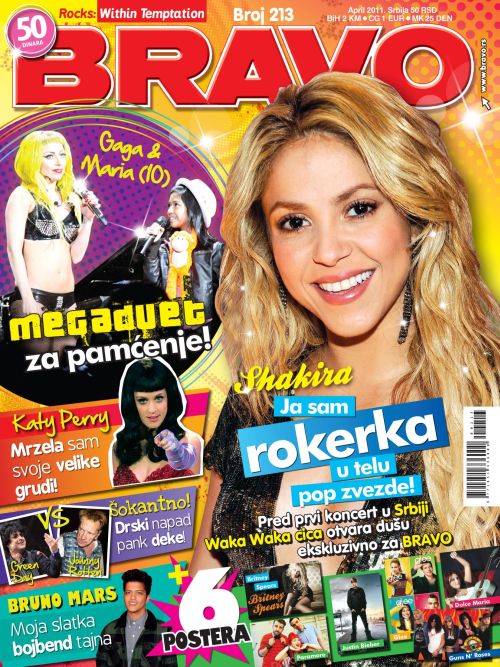 Novi BRAVO od 31. marta na svim kioscima!!!
Cover Story
Shakira: "Ja sam rokerka zarobljena u telu pop zvezde!"
Stars
True Blood: Novi vampir napada Twilight ekipu!
Lady Gaga & Maria (10): Megaduet za pamćenje!
Glee: Dobrodošli u naš svet!
Charlie Sheen: Nogiran iz serije "Two And A Half Men"
Green Day vs Johnny Rotten: Drski atak pank deke!
Katy Perry: "Mrzela sam svoje velike grudi!"
Posteri: Justin Bieber, Dulce Maria, Guns N' Roses, Britney Spears, Paramore, "Glee"
News
Emma Watson: Potterov top-model
Ashley & Joe: Svemu je kraj!
Cody Simpson & Grayson Chance: Novajlije u akciji!
"Wizards of Waverly Place": Slatki anđelčići
Justin Bieber: Ja puta dva!
Adam Lambert & Miley Cyrus: Duet u najavi?
Plus: Emily Osment, Kristen Stewart, Zac Efron, Nina Dobrev, Demi Lovato, 50 Cent…
Backstage
Ke$ha: Njena kul nova gusarska gajba
Avril Lavigne: Brat i sestra su me maltretirali!
Rihanna: Oprostila nasilniku Chrisu
Report
Najotkačenije prijateljstvo na svetu!
TV
The Vampire Diaries: Seksi kao nikad dosad!
Rocks
Within Temptation, Bon Jovi, Kreator, Cavalera Conspiracy
MTV
Upoznaj grupu Big Time Rush!
Action
Koji si muzički tip?
Kao i sve druge stalne rubrike…