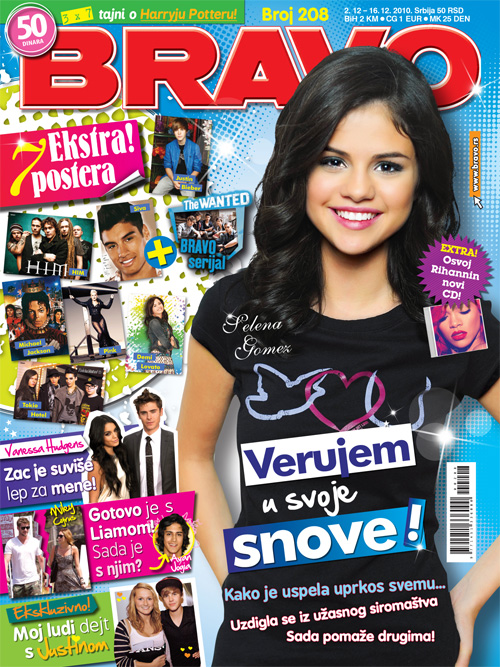 Novi BRAVO od danas na svim kioscima!!!
Cover Story
Selena Gomez, ekskluzivni intervju: "Verujem u svoje snove!"
Stars
Michael Jackson: "Porodična svađa oko novog albuma"
Rihanna: "Katy, nemaš pojma koliko mi je žao!"
BRAVO reporterka Julia: "Jedan dan sa Adamom Lambertom"
Eminem, 4. deo: "Moj proboj do vrha!"
Posteri
Justin Bieber, Tokio Hotel, HIM, Michael Jackson, P!nk, Demi Lovato
News
Taylor Lautner, "Gossip Girl", Emma Watson, Lady Gaga, Kellan Lutz & Ashley Greene, Justin Bieber, "Supernatural", Ke$ha, Metallica…
Backstage
The Wanted serijal, 1. deo – Siva (plus mini poster)
Psihotest
Šta simpatija želi od tebe?
Horoskop
Rođendanac nedelje – Britney Spears
Movie
3 X 7 tajni koje moraš znati o filmu "Harry Potter i relikvije smrti"
Osvoj suvenire iz filmova "Paranormalna aktivnost 2" i "Megaum"!
Let's Talk specijal
Kako žive boys and girls u Americi, 2. deo – Samantha odgovara na pitanja BRAVO čitalaca
Style
Tvoj idealni dejt
Action
Koliko si kreativan/kreativna?
I još mnogo toga…